Not-so-mystery shopping
One of the questions we get asked the most is 'do people still use mystery shopping and in the modern world, is it still relevant?'
It does sound rather 1990's right? Regardless of what you call it…mystery shopping, experiential tracking, customer experience, moment of truth analysis, we would strongly argue it's a more important facet of a brand's insight ecosystem than ever before.
In this article, we unpack what mystery shopping is, some practical applications and guidance, and importantly, what problems clients are asking us to help them with right now.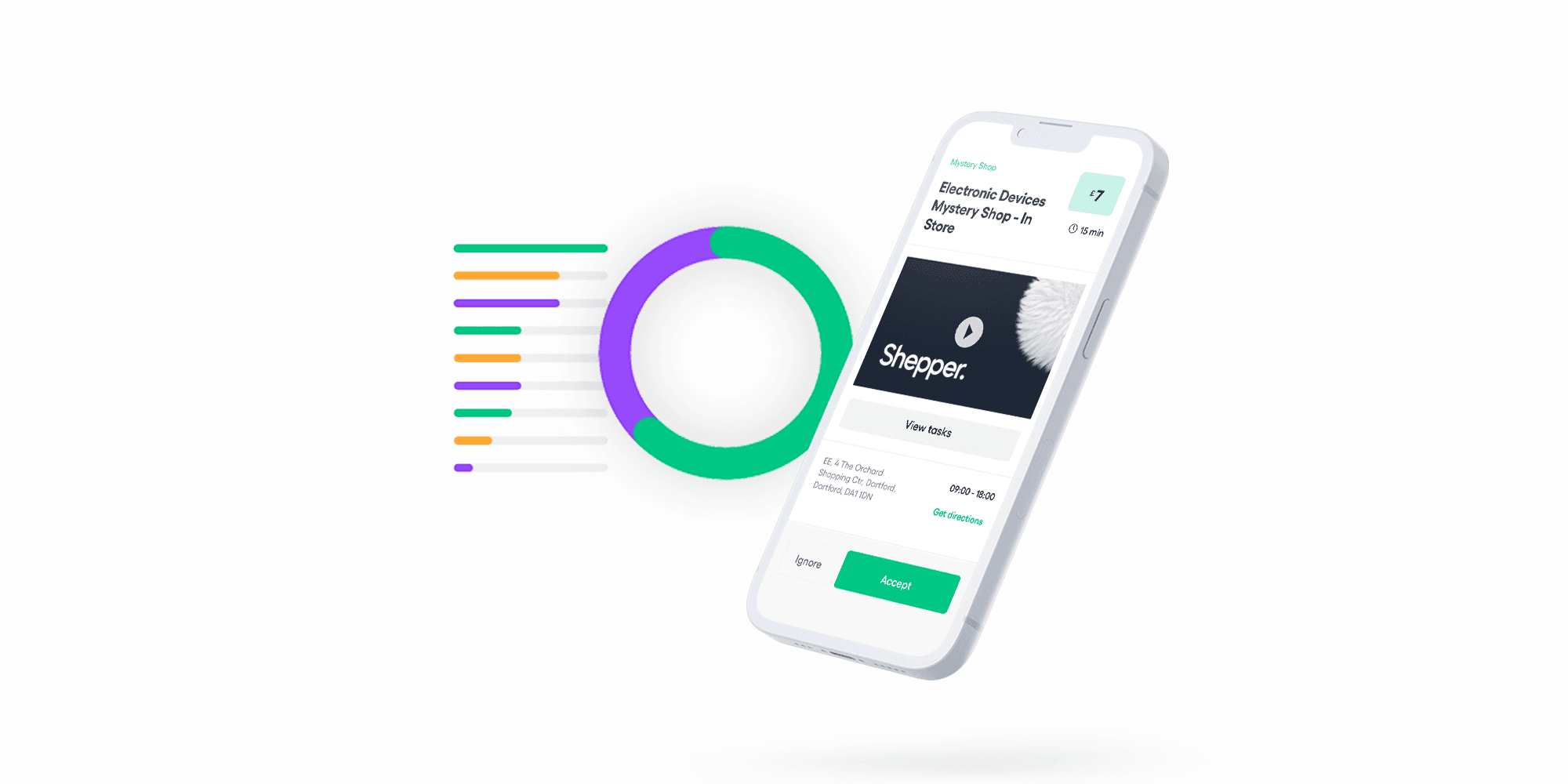 What is mystery shopping?
It's simply an independent process designed to guide shoppers through a customer journey, asking them to assess, document and share their experiences in exchange for a fee, or in some cases a reward like a free product. These customer journeys can be in person, normally a store, showroom, hospitality venue or large-scale event, over the phone, online or a combination.
The process of collecting insight is normally co-created by the client and the mystery shopping provider. The guide for the mystery shopper can combine quantitative and qualitative inputs depending on the desired outcomes, and critically, should be guided by the action a business wants to take off the back of the insight.
With tech-based solutions like Shepper (who use an app and a data structuring platform), mystery shopping guides can be cleverly and uniquely designed to ask the shopper to evidence their experience through an intelligent, user interface (a predictive question set), further fuelled by a range of technology features, including timestamp photographs, video, sound files and a stopwatch.
Shoppers follow sophisticated guides and receive general and brand specific training to enable mystery shoppers to gather and evidence what the consumer sees, hears and experiences in that moment. Critically, brands can assess how customer experiences' change at certain times and days of the week, and by colleague and by store.
Data structuring and real-time reporting enables businesses to track results over time, set up 'all store' benchmarks and trigger immediate alerts where critical problems are reported. Not only will mystery shopping provide valuable feedback about the quality and consistently of customer satisfaction, but it will also provide essential data on product availability, colleague knowledge and service, how effective operational processes and controls are, and critically, help to identify lost revenue opportunities.
Using a technology led solution enables a bespoke programme to be designed and implemented within seven days, with the ability to evolve and test new questions and methodologies, in real time.
With an app based solution, unlike some traditional approaches, what mystery shoppers see, hear and experience is captured in real-time. Rather than asking somebody to remember their experience and write a report on it over the coming days (when we have all done 100 things since). We promote and enable the use of voice technology together with as much visual evidence as possible, not only does this give clients more richness, and brings the experience to life, it also enables us to recruit a diverse community of people. Increasingly, people live in the moment and demand tasks to be efficient.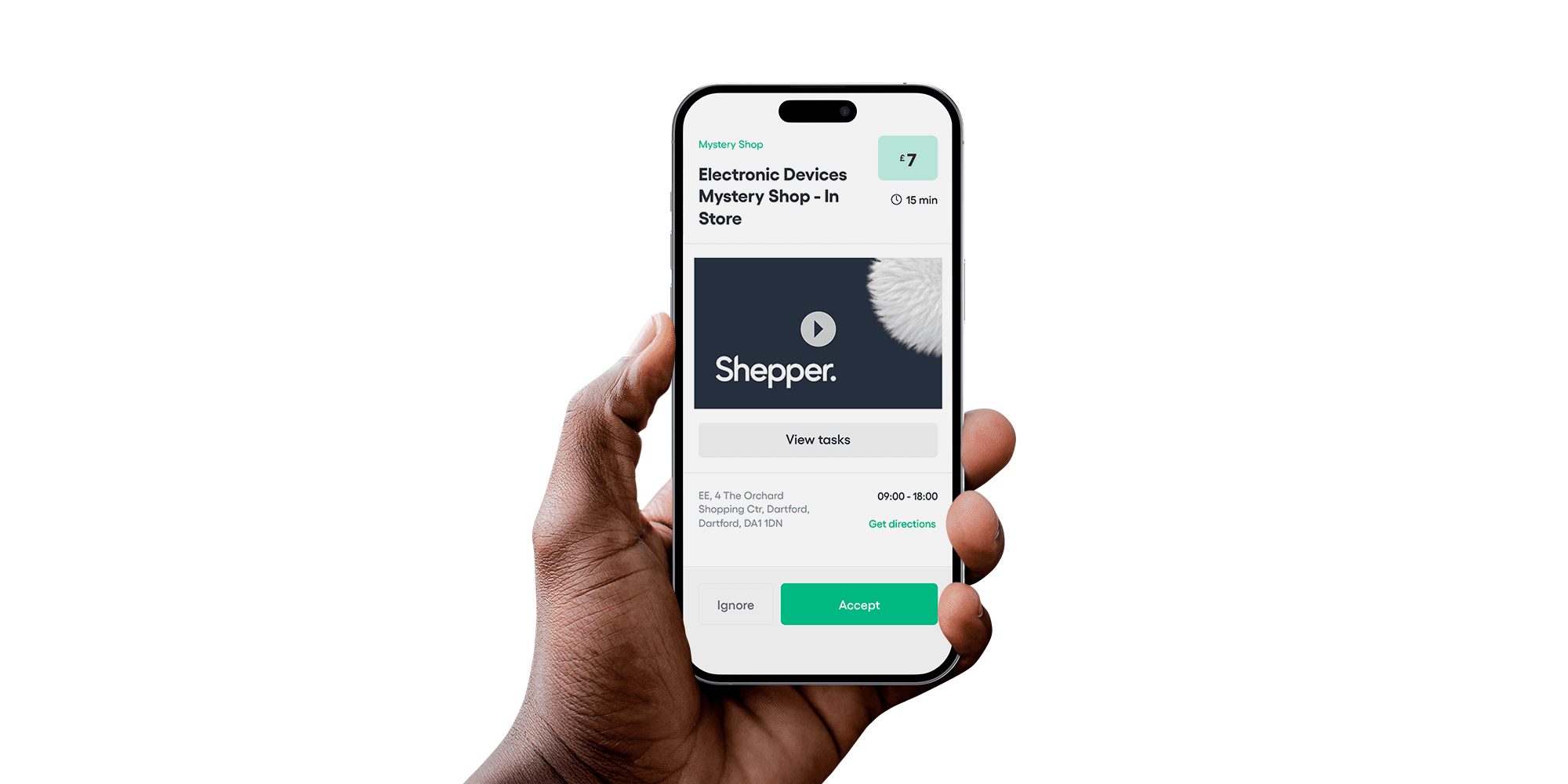 Mystery shopping is often considered to be a bit of a dark art, with many companies promoting 'professional shoppers', people that are screened for spelling and grammar and sentence construction. People who are skilled assessing and critiquing how it feels to experience a brand or a product. Some of these principles are more difficult to argue against, but consumers aren't professional shoppers. Subjecting 'would be' mystery shoppers to spelling, grammar and language tests purely looks to exclude segments of the community from participating which doesn't align to the increasing client demand for diversity and our community reflecting the clients' target audience.
Technology now enables consumers to be digitally trained to be eagle eyed mystery shoppers, digital user guides and in built tools help the mystery shopper gather an insightful account of their experience. With automated quality assurance, the data gathered by mystery shoppers can be scrutinised immediately after an experience has been critiqued. Not only does this ensure, quality and integrity of data, but it also enables us to evaluate the individual performing the mystery shopping, triggering skill badges to give access to higher skill projects.
What clients are asking us to look at?
So we talked about some practical applications of mystery shopping, what are the top five briefs clients are asking Shepper to help them with?
Is my store or franchise or service environment fit for purpose and consistent across the country, explicitly is the environment clean and functioning as a brand intended it to be?
During critical parts of the day and week, do we have the right products on sale and how easy are products and ranges to find and buy (payment ease and speed)? Are there colleagues on hand to help drive sales of products and services we know the consumer will work want to buy at that time / day / season?
For more thoughtful, significant or regulated purchases, what does the personal service or guidance look and feel like vs. how we have designed and trained our colleagues and how does this compare to other brand choices?
Where we know customers use multiple channels to consider and or purchase products or services, how effective are these customer journeys on short and longer term financial and non financial objectives (+ vs. the competitor set)?
Explicitly, how do I effectively measure parts of the value chain where accountability for things like delivery is being outsourced to another business?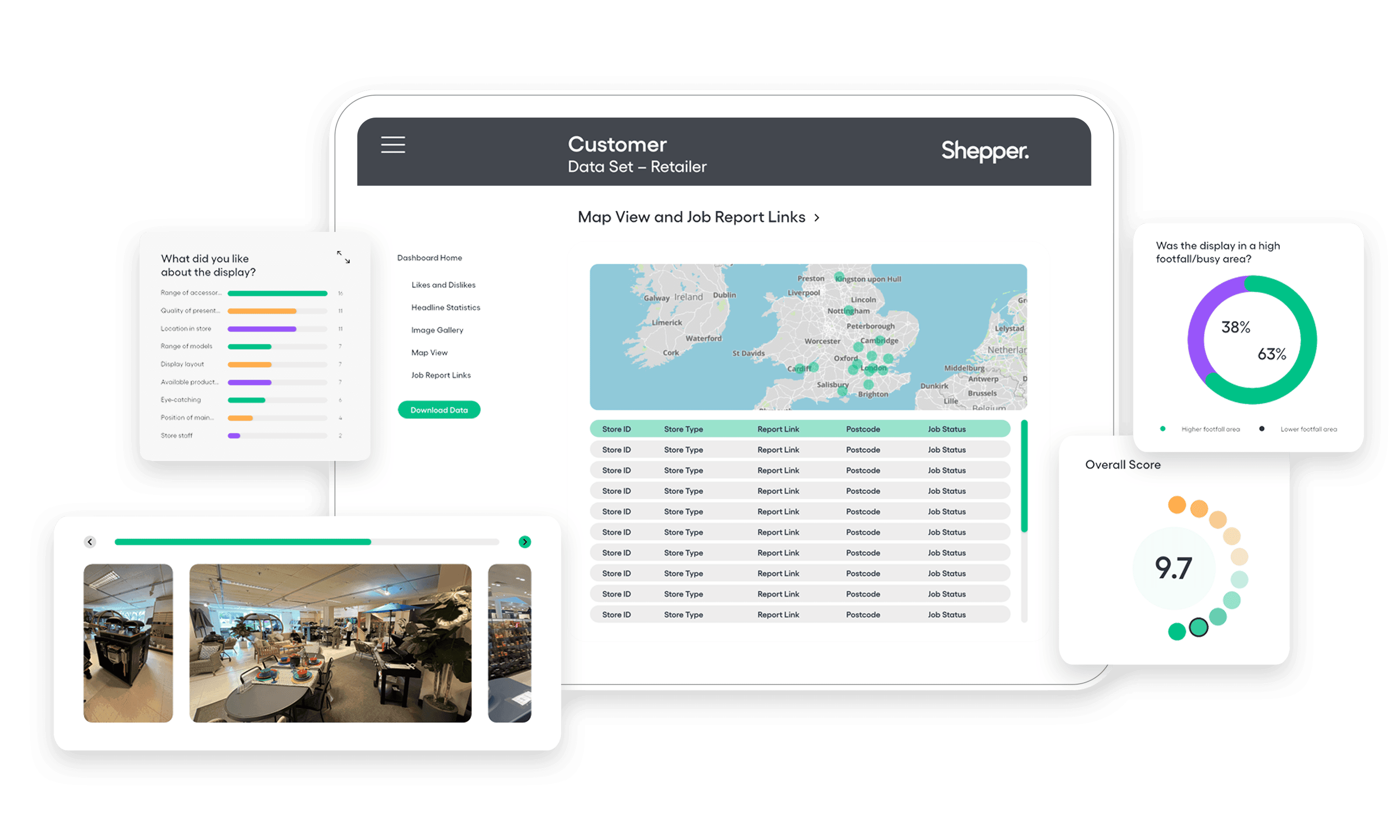 Should I be thinking about mystery shopping for my product or service or brand experience? We have a rather biased view but it seems rather pointless, to invest in product design, packaging, pricing, distribution, promotion, staff training and customer service if you don't have an effective way of measuring success and critically, taking action off the back of insights. Competition is fierce. Consumer expectation high. In a cost constrained environment, brand differentiation must be defined, delivered and evidenced. A brand is what a brand does.
At Shepper, inclusivity forms a big part of our mission. Not only do we want to unite all aspects of every local community behind great technology to solve problems for businesses, we also want to make it easier and more affordable for more organisations to surface actionable insights. We are proud to work with some of the largest brands, and with some of the best challenger brands.
Things to consider when commissioning a mystery shop programme:
What are the two or three most critical moments of truth for the customer?
What data do I need to effectively (and objectively) need to measure each of these moments of truth?
How do I share this data within my business in a way that makes people embrace the insight positively, and makes them sit up and take action
How do I structure a programme to balance investment with reach (penetration of own and category brands) and frequency
How do I design the programme in a way that enables the business to respond to an increasingly dynamic, fast moving environment?
Go to https://www.shepper.com and find out how we can help and speak to one of our mystery shopping experts.
Get Shepper Straight to your Inbox
Subscribe to our newsletter and get industry insights sent directly to your inbox.